Owners Comments
Families who have adopted my puppies have these comments:
Reagan (Formerly Pete) We found Janet through an online search for Bernedoodle breeders in the Pacific Northwest. She was very easy to work with, and you can tell she is fully invested in the well-being of her pups. Our girl, Reagan, is 7 months old now, and she is the major source of laughter and entertainment in our household. We have two kids under the age of 8, and she is so great with them. She is definitely higher energy than our previous dog (a pure-bred Bernese Mountain dog), but not overwhelmingly energetic. Her coat is beautiful, and so far, SHED-FREE which has been amazing. I would absolutely recommend Janet to others looking for a bernedoodle pup.
Dana, Tri Cities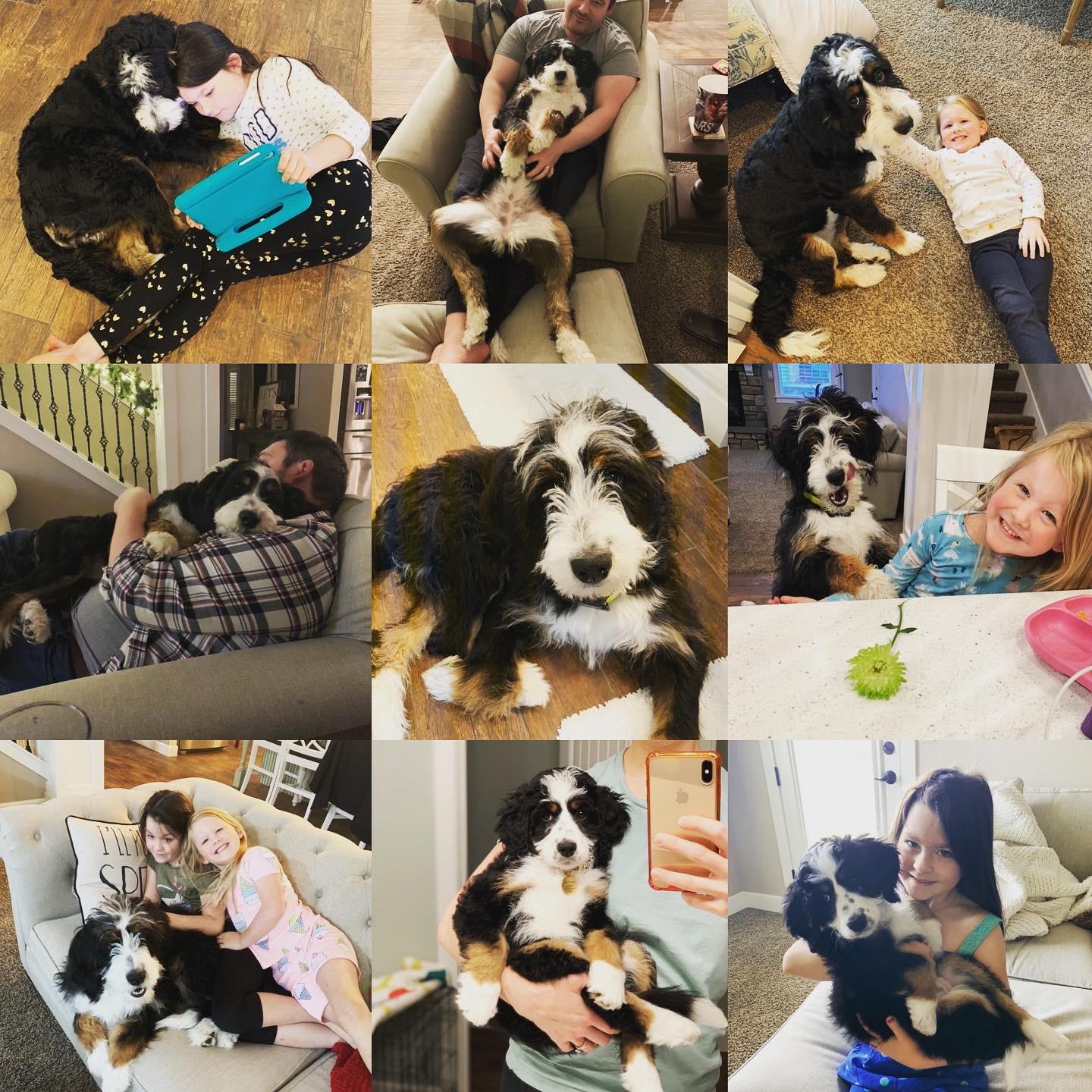 Daisy (Formerly Wyatt) We've had a great experience with buying our puppy from Janet. We are first-time dog owners and had many questions and Janet has been an excellent resource for how to take care of the puppy. The puppies are very well cared for and we appreciated being invited over to visit the puppies before they were old enough to go home. The puppy play dates she hosts with the litter mates are lots of fun too! Overall, we highly recommend Seattle Bernedoodles!
Colleen and Dennis, Seattle
Kula (Formerly Pretty) Kula was born on August 24 to Rosebud and is 46 pounds. We do not clip her because we like the Bernese look and her hair does not mat even with minimal brushing.
I would describe Kula as having the best qualities of both breeds. We often compare her to what Clack the Bernese would do or Bella the poodle. She is so social and has yet to meet anyone she doesn't like, but she also wants to be very close to us and preferably have all three of us together. Of course, we think she is very smart since she at an early age figured out how to open all the inside doors plus the sliding pocket door. It is fun to challenge her with different games which she seems to enjoy figuring out. She is very gentle with children or when she is playing with other dogs. Because of that characteristic she is very popular with all our neighbors and their grandchildren who always ask to visit her, not us!
We suggest that prospective owners visit the parents prior to choosing a breeder. Then when the puppies are born, visit several times prior to choosing their puppy. This allows them the opportunity to interact with the puppies and see the puppies' personalities develop so they can choose the puppy best for them. From what we've learned not all breeders do this but Janet did.
Terry and Gary, Tacoma
| | |
| --- | --- |
| | |
Freddie (Formerly Dave) We decided to go with Janet as a breeder because she was in the area and was reputable, but we were so happy at just how caring and loving she was to the pups. She takes such great pride in the work she does. I felt so confident working with her to find the perfect dog for my needs.
I went with the breed as a service dog, and she was there every step of the way making sure the process of getting Freddie was going to be a healthy and right fit for me (genetic testing, references, etc.) I can't thank her enough for the work she put in.
Freddie has been going through service dog training like a pro! He's so easy to train and calm, confident, but also a playful and a silly puppy. My trainer thinks his nature is very well suited for the work. He makes everyone around him smile and laugh, but he's also comforting and full of love and snuggles. He's going to be a wonderful lifeline for me and I am extremely happy I went with her as a breeder to find him! We would recommend her 100% to anyone!
Malia and Tyler, Mill Creek
Winston (Formerly Handsome) He is the joy of our lives!! Tipping the scales at 70lbs he is our gentle giant. He loves to cuddle with us and gets along well with any other person or animal. He just wants to play all the time! Our favorite hobbies are walking through the park and playing tug of war :)
Eric and Brianne, Seattle
Adak (Formerly Bobby) Janet does such a great job with the puppies! Our Bernedoodle came home having been handled so well that he was easy to train. He has a great personality and is social around people and dogs. He is smart like a poodle and loving like a bernese mountain dog. Our six month old is a great size right at 50 lbs. Highly recommend Seattle Bernedoodles!
Kathy, Sammamish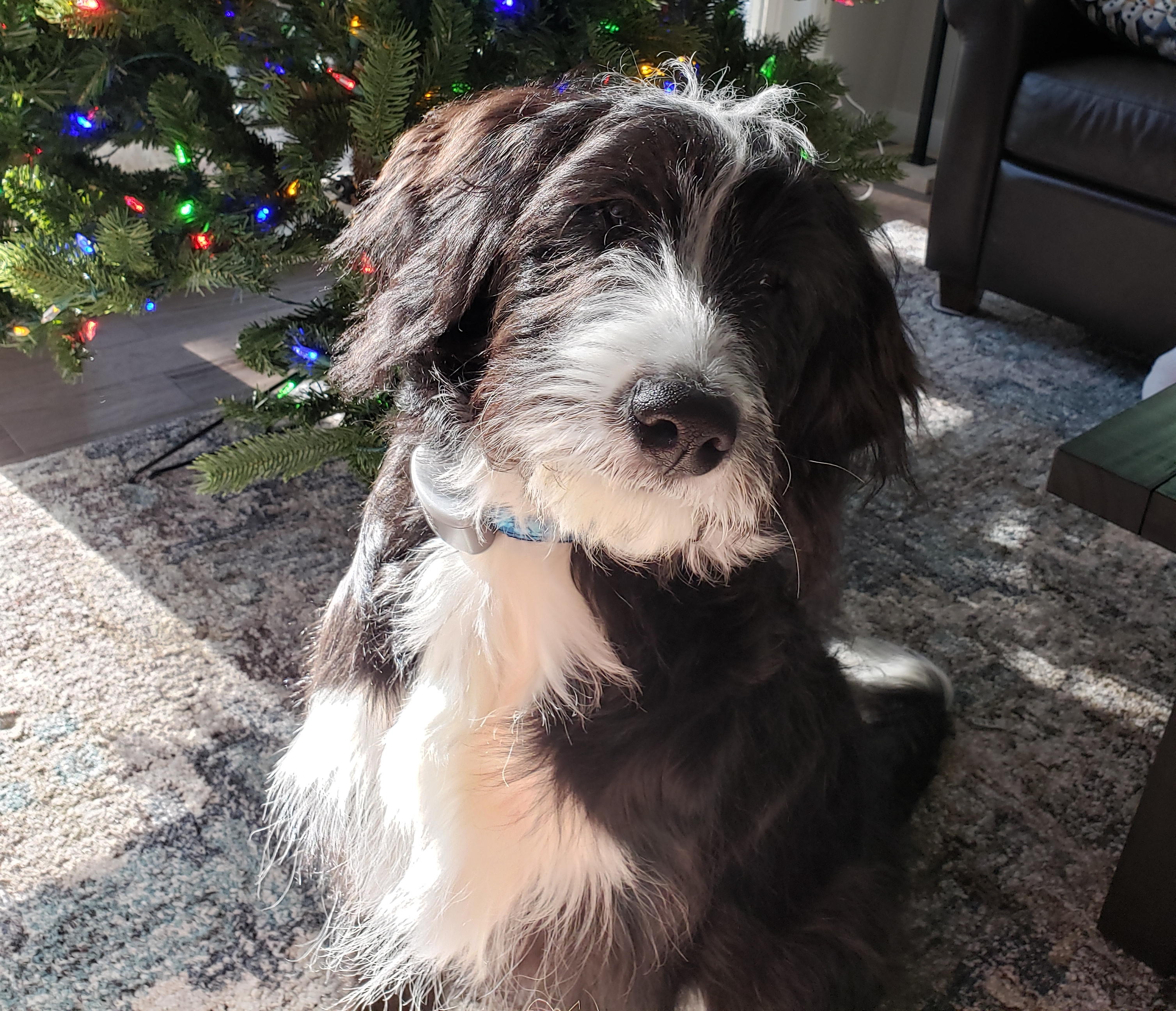 Bella (Formerly Boxer Boy) My story:
I was introduced to Bernedoodles about 4 months after I lost my dog. You never know if your ready but Janet made my journey very easy. Bella found me after I was sure I was not ready to get another dog. The support of Janet in the puppy process was not just a hand shake. Having play dates with other puppy owners you feel part of the family. It was so fun to see the pups play together as they were getting bigger. Bella is a warm loving dog, loves my 2 cats and cannot get enough sofa time with me. Loyal, non shedding and happy. Truly blessed Bella found me and I cannot thank Janet enough for being so patient with me on my journey. Looking forward to another puppy in the near future to have a companion for Bella.
Paula, West Seattle (Pics are a year apart)
| | |
| --- | --- |
| | |
Dixie (Formerly Taco) has been a wonderful addition to our family! She's adorable and ridiculously friendly. People often stop to meet her and ask about her breeding.
We have two teens, so we often have a houseful of kids and she loves the attention. We also have a cat just a few months older than Dixie and they've been very close from the start. She enjoys playing with other dogs, but is especially drawn to other poodles and doodles. She is just under 45 lbs, which is the perfect size as far as we're concerned. She has the typical poodle body shape - long legged, lean torso. She's graceful like a poodle, smart, playful, affectionate. She travels easily, enjoys car trips, loves camping and mountain hikes (especially off-leash!). So far, she's not a big fan of water but we're working on it!
She was reliably potty trained by six months old. We attribute our easy potty training success to you, Janet. Since all your puppies learned from their mama to do their business outside and had access to the yard, we felt like Dixie instinctively knew what was expected. We hung a bell on the backdoor knob and it was smooth sailing once she made the connection between ringing the bell and the door opening.
As for dog training, she's very smart and has learned all of the usual commands and several tricks. That said, she's been less 'eager to please' than some breeds we've had in the past - she knows what we're asking but sometimes chooses to ignore our request. We attribute what we call her 'stubborn streak' to the Bernese side of the fam, but it could just be her unique personality. I'd be curious to hear if anyone else has experienced the same. We've only had lab retrievers, standard poodles and German shepherds in the past and they've all been super easy to train by comparison. In any case, she is a constant source of laughter for our family and we love everything about her.
Melissa, Seattle
Oreo (Formerly PJ) As a dog breeder, you have exceeded all of our expectations! We have heard so many bad things about breeder who only cares about profit and not so much the dogs, but you are different. We can tell that you care deeply about you pups and their moms. You make sure they get proper care and the new owner knows how to care this wonderful breed. We attributed the ease in integrating Oreo to our home and potty training to you. She was potty trained in 3 days! The siblings play dates that you organized have been so good for the pups to reduce their separation anxiety. You also have been so thoughtful and ensure that we have all the info needed to take care of this particular breed. It was such a great experience, that we have been recommending you to everyone who asked about Oreo. We are just so glad we went with you to get our pup!
Indah and Bjorn, Lake Forest Park
Doug (Still Doug) - Rachel and Jarod, Edmonds
Harlow (Formerly Schneider) - Fay and Foster, Seattle
Charlie (Formerly Simba) - Jeffery and Tracy, Puyallup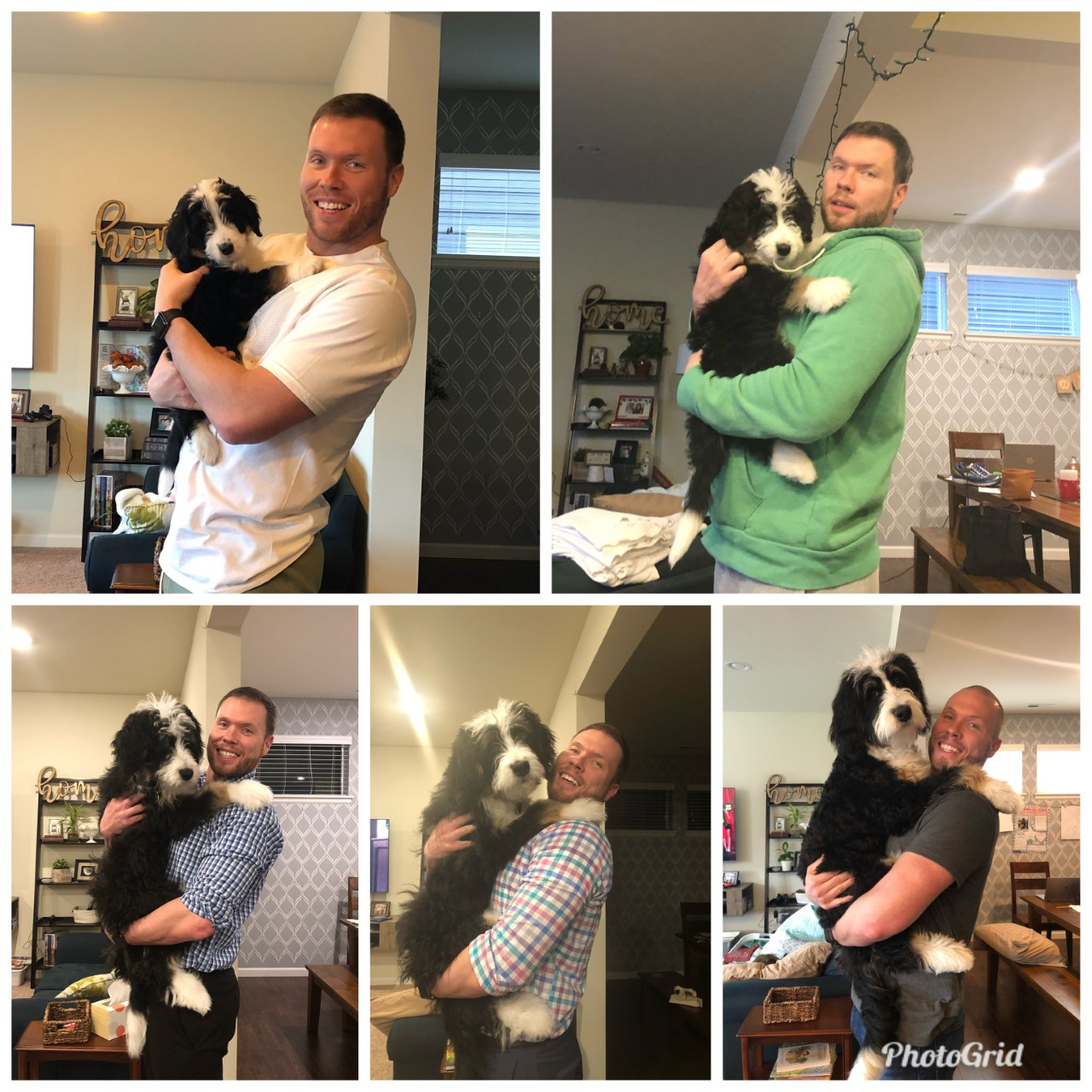 Maizie (Formerly Whitney 3rd pic at 6 1/2 months) - I want to thank Janet so much for my 'amazing' Miss Maizie. I was out of the country until the week we were to pick out the pups, so I was not able to take advantage of the ability to visit the puppies before the selection date. Although, I was really impressed that Janet took the time to organize those visits. I felt I might have been at a disadvantage when I went to pick out my new roommate but seriously, I do not think anyone could go wrong with any of the pups. Janet is a careful and caring breeder and has the best interest of all pups and their mom. I also know Janet cares about what she is doing as she has play dates for the litter mates during the period of time before they get all of their shots. Since it has been 30 years since my last pup, I have emailed and texted Janet a number of questions which she has quickly responded to and has been extremely helpful (and patient). Maizie is providing joy and laughter not only for me during this difficult time, but with 'amazing' Maizie videos and pictures sent to my family and friends. Maizie and I are looking forward to the time when Janet can host litter play dates as she typically does during normal times.
Leslie, Bainbridge Island
Ellie (Formerly Pink 3rd pic at 7 months) - Glenn and Diane, Burien
Lucy (Formerly Jewell) - Mickey and Kim, Sammamish - Also is Daisy Formerly Russell from a prior litter
Moose (Formerly Elvis) - Laura and Josh, Edmonds
Zorro (Formerly Barbra aka Babs) - Sam and Ghislaine, Redmond
TBD (Still Prince) - Megan, Seattle
Abby (Formerly Cher) - Mary and Joe, Kirkland